Wobble-not™ Serological Pipets

Low Insertion Force, Better Seal, Less Dripping!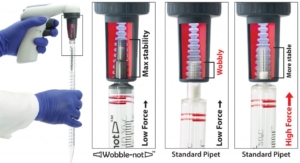 Wobble-not serological pipets have a patented innovative 2-tier step design at the plug end vs. traditional pipets that have a straight cylindrical-shaped plug end.
Wobble-nots are the only serological pipets that will give you two zones of contact in your pipet controller's nozzle. Insert with less force. No jamming. Plus, you get maximum stability which means less dripping, more accuracy, and less risk of contamination!
Ideal liquid handling partner when paired with
ali-Q™ 2 Pipet Controller
Low-Insertion Force Serological Pipet:
Unique patented 2-tier step design at plug end
3 packaging options, all Sterile: Individually wrapped in paper/plastic or plastic/plastic and bulk (zip lock resealable plastic bags)
Sterile – RNase/DNase free
Non-pyrogenic
Accuracy ± 2% at full volume
Filter at plug end made of porous polypropylene
Ultra-clear markings